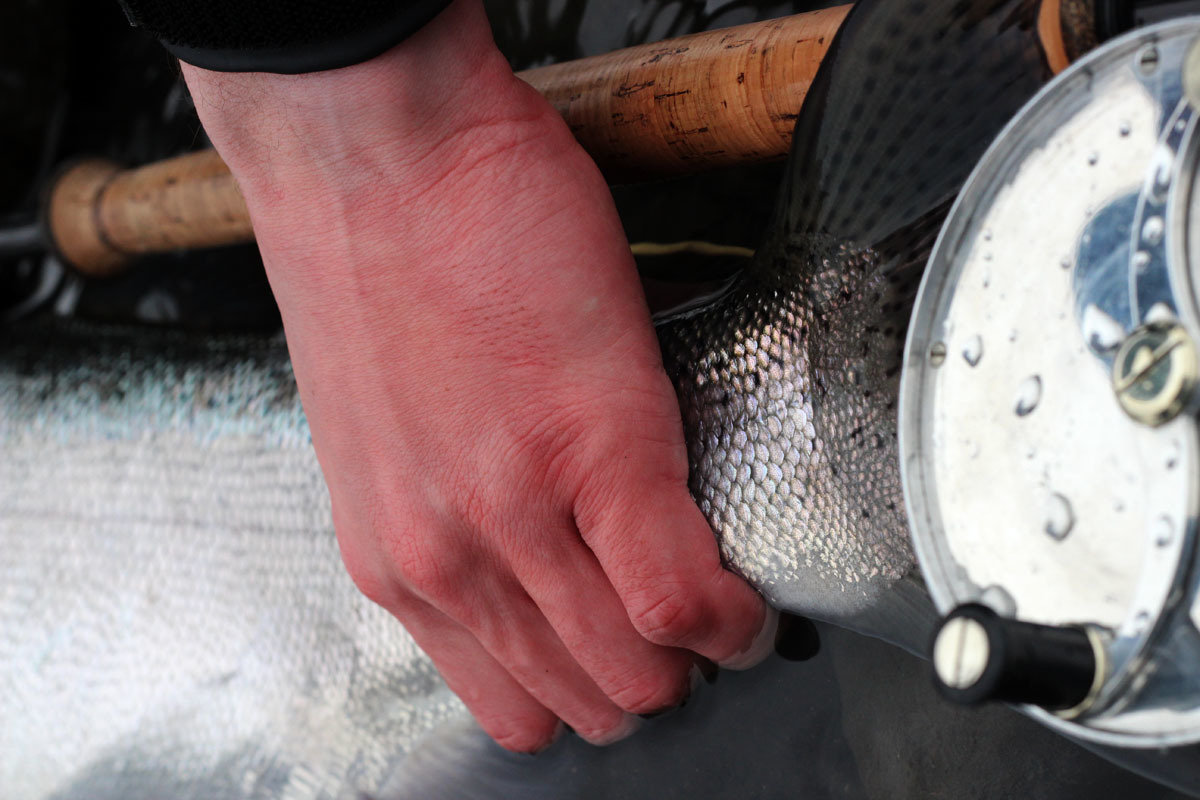 Trip Details
fishing season:
Olympic Pensinsula Winter Steelhead Guided Trips are offered January 1st - April 30th.
RATES:
Full day guide trip for 1 or 2 anglers - $550 per day.
Full day guide trips include
8+ hours of guided fishing.

Shuttle.

Rods, reels, flies and any other specific terminal tackle. Guests are encouraged to bring their own rods and reels. See below for recommendations.

Lunch, snacks and non-alcoholic beverages.
Not Included
Guide gratuities.

Alcoholic beverages.

Anglers must have a valid Washington fishing license. Guests can purchase their fishing licenses online here.

Personal gear - Waders, Boots, Rain Jacket, etc.

Overnight accommodations, and transportation to and from Forks, WA.
Where to Stay:
Pacific Inn Motel - http://pacificinnmotel.com/
Forks Motel - http://www.forksmotel.com/
Cozy River House - https://www.acozyriverhouse.com/
What to Bring:
Preparation is key to an enjoyable, successful steelhead trip anywhere. That is especially true on a trip to the Olympic Peninsula in winter. To make sure you're fully prepared for your trip, we provide the following gear list as a starting point. Feel free to contact us with any questions.
Clothing - Weather on the OP can change dramatically in a short time period. So we recommend using a layering system underneath your Waders.
Merino wool or synthetic base layer pants and shirt

Warm wool socks - synthetic liner socks are also a good addition

Medium to heavy weight fleece pants

Medium weight fleece shirt or synthetic sweater

Down or heavy weight fleece or soft shell jacket

Breathable waders with felt soled boots (Rubber soled boots are NOT recommended)

Good quality rain or wading jacket

Beenie or other warm hat

Baseball cap or brimmed hat

Polarized fishing glasses

Fleece gloves
Rods and Reels - The rivers of the Olympic Peninsula present the angler with a huge variety of fishing situations. While a 13'6" 8 weight (or similar) two-handed rod would work perfectly well for 90% of these applications, we have been shifting towards shorter spey and switch rods in recent years to cover some of the more interesting fishing situations encountered. Two handed rods from 11' - 14' long in #7 - #9 weights are recommended. Rods should be matched with good quality reels, loaded with a minimum of 100 yards of 30 lb Dacron backing.
Lines, Sink Tips and Leaders - The vast majority of our fishing is done with Skagit heads and sink tips. We use both full floating and floating/intermediate Skagit heads. If properly matched to the rod, modern Skagit heads will make casting much easier and more enjoyable. We recommend bringing a good assortment of sink tips from T8 - T17. We prefer to use 12' - 13' long tips. For leaders we typically use 3-5 feet of 15 lb Maxima Ultragreen.
Flies - A wide variety of steelhead flies from classic OP originals, such as the Orange Heron, to modern String-Leaches and Intruders can all be effective here. We recommend carrying a small assortment of sizes and colors. We prefer flies in the 2-4" length range, tied in Blue, Black, Purple, Pink, Orange and white either as solid colors or in combinations. Traditional flies should be tied in sizes #4-#2/0, and flies with trailing hooks should be rigged with #1 or #2 Octopus style hooks.
Booking Policy
A 50% deposit is required to book a trip. Final balance is due 14 days before start of trip. All trips booked within 30 days of trip date must be paid in full at time of booking.
Cancellation Policy:
Cancellation by guide due to weather, water conditions, or emergency will result in a rescheduled trip or full refund of trip cost for unfished days. Cancellation by client within 30 days of trip start date will result in forfeiture of deposit. Deposit may be applied to a rescheduled trip within 6 months of original trip date. Cancellation by client within 14 days of trip start date will result in forfeiture of deposit. Cancellation by client within 48 hours of trip start date will result in forfeiture of 100% of trip cost. The Confluence Guide Service will not be responsible for any loss or damage of property or personal injury arising while participating in sport fishing or any other activity associated with the business activities carried out by Confluence Guide Service.